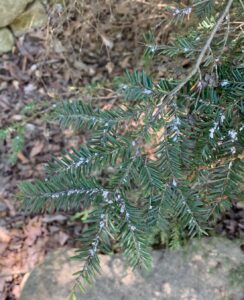 What is a hemlock woolly adelgid?
Hemlock woolly adelgid (HWA) is an aphid-like insect that covers itself with a white, waxy "wool" which acts as a protective coating for the insect.  Adelgid infestations are easily recognizable by the appearance of tiny "cotton balls" at the base of hemlock needles.
Hemlocks are called the "redwood of the east," eastern hemlocks can grow more than 150 feet tall on trunks measuring six feet in diameter. Some hemlocks in the Smoky Mountain National Park are over 500 years old.  For about 10 years, HWA has infested hemlocks on the Blue Ridge Parkway where as many as 80 percent of the hemlocks have died due to infestation.
HWA feeds on the sap at the base of hemlock needles, disrupting nutrient flow and causing the needles to change from deep green to a grayish green, then fall off.  Without needles, the tree starves to death, usually within three to five years of the initial attack.  Infestations often start in large, mature hemlocks, but the insect also attacks and kills younger trees as well.